Free Whitepaper Download & IFTA Consultation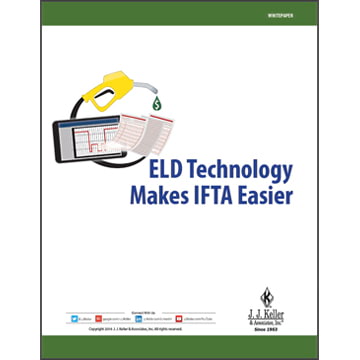 ELD Technology Makes IFTA Easier
Many things have changed over the years regarding fuel permitting and taxes. However, the Individual Vehicle Mileage Report (IVMR) and tracking fuel purchases are still "necessary evils."
Written by Senior J. J. Keller Editor Tom Bray, the free whitepaper ELD Technology Makes IFTA Easier covers valuable information regarding IFTA and how technology can make things easier for drivers and carriers, including:
Intro to fuel tax and reporting
Problems with the System
Creation of IFTA
Technology Solutions
Paper vs. Electronic
Fill out the form to download your FREE whitepaper and get a call from a Compliance Specialist to learn more about automating IFTA for your fleet.