Free Whitepaper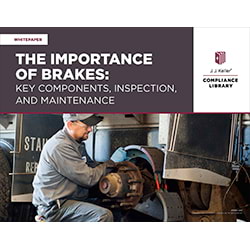 The Importance of Brakes: Key Components, Inspection and Maintenance
From August 21-27, 2022, many states will participate in the Commercial Vehicle Safety Alliance's (CVSA) "Brake Safety Week," when commercial vehicle inspectors will be inspecting brakes to verify compliance. Along with doing that, they will be informing operators about the importance of proper brake maintenance.
Download this free brake safety whitepaper to learn how to keep your brakes well maintained and functioning properly. It covers important topics like:
The compressor, governor and air dryer
'Parallel' systems
The slack adjuster
Heat
Readjustment limits
And more
Fill out the form to download your FREE brake safety whitepaper.