Free Whitepaper
Injury and Illness Recordkeeping: Easing The Pain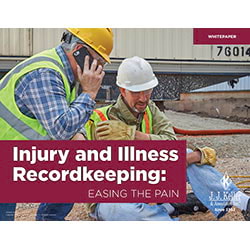 Maintaining and analyzing injury and illness records is a widely-recognized method for uncovering workplace safety and health problems, and for tracking your progress in solving those problems.
Accurate recordkeeping can also ensure that you are not recording more injuries and illnesses than you need to, which can skew your incident rates and lead to an OSHA inspection.
Written by J. J. Keller Editor Lisa Neuberger, this whitepaper includes information on OSHA's recordkeeping requirements, including:
Exemptions
What Is and Isn't Recordable
Determination of Work-Relatedness
Recordkeeping Exceptions
What Forms Must Be Used
And much more
Fill out the form to download your FREE Injury and Illness whitepaper.